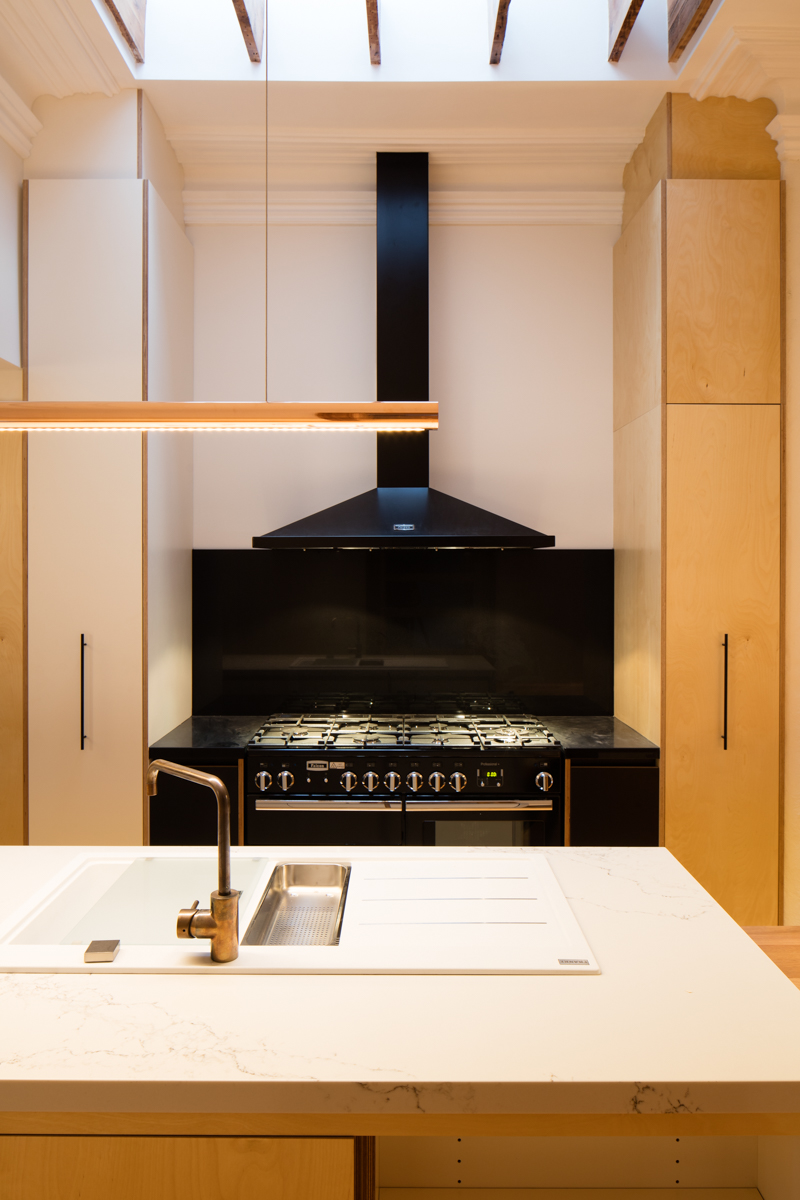 Photographs | Nic Granleese + OOF! architecture
LONG ROOM HOUSE
Long Room House is the renovation a modest 2-storey terrace to suit a 21st century blended family - a family that grows from a manageable household of 3 to the jam-packed chaos of 7 people + 2 dogs. While modest in appearance, the house was built in the 1850s in the first decade of settlement in the area and is of high heritage significance. It is strongly controlled by council heritage requirements externally and, in some parts, internally.
A few bold changes allowed the dysfunctional + poky rooms of the old house to be rehabilitated into surprisingly generous new family spaces + cosy attic bedrooms - all within a tight footprint. We endeavoured to re-organise the house spatially but retain – and reveal - as much original fabric as possible. Wonky angles and uneven surfaces are not corrected but highlighted as the charms of the house. The clean industrial lines of new elements introduced by the renovation serve as a counterpoint to the craggy old faces of the old.
A modest palette of simple plywood joinery throughout provides a fresh contrast that highlights the charms of old timber floors, well-worn doors and gnarled roof frames.
Generous new skylights brighten up formerly dim rooms with views of the sky + reveal the original timbers of the house. A continuous joinery wall of different patchworked plywoods - birch, black + white faced - knits several old cramped rooms into the largest space in the house — a long room worthy of the cooking, eating, talking + carousing when the whole clan descends.
DESIGN TEAM
Architect | Fooi-Ling Khoo
Planning + Heritage | David Brand
Building Surveyor | Anthony Middling & Associates
Feature Copper Lights | Giffin Design
CONSTRUCTION TEAM
Builder | D M Urban Projects
Joiner | Wattle Valley Kitchens
Tiler | Bellas Bros
MEDIA:
selection of articles about the Long Room House
MEDIA ENQUIRIES:
Please have a look on Bowerbird.io for more information about this project
LONG ROOM HOUSE UNDER CONSTRCUTION